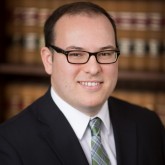 Daniel Fogarty
Daniel Fogarty joined Sandulli Grace in 2015. He graduated cum laude from George Washington University with a B.A. in Philosophy and then went on to receive his J.D. from Brooklyn Law School. At Brooklyn Law School he was an active member of the Moot Court Honors Society and was chosen to represent the school at multiple prestigious Trial Advocacy competitions. He is licensed to practice law in both Massachusetts and New York.
Prior to joining the firm, Dan worked as a Labor Relations Trial Examiner at the New York City Office of Collective Bargaining. As a Trial Examiner, Dan acted as a neutral decision maker in improper practice and representation cases between the City of New York and various municipal unions. He conducted pre-hearing conferences and hearings before drafting decisions for approval by the Board of Certification and the Board of Collective Bargaining. He also provided information to potential pro se petitioners regarding the NYC Collective Bargaining Law and OCB Rules. While in law school, Dan gained valuable experience working at a union-side law firm, Region 2 of the National Labor Relations Board, and the NYC Patrolmen's Benevolent Association.
Dan currently lives in Boston. He spends most of his time outside the office with his fiancé, Allie. He enjoys running, talking baseball (especially the Red Sox), and watching a good movie. Through a series of road trips, and a few wrong turns, he has driven through 38 states, and he is looking forward to getting to the other 12.