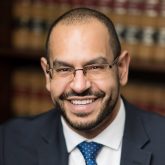 Kareem A. Morgan
Kareem Morgan Joined Sandulli Grace in 2013. He graduated magna cum laude with a degree in Criminal Justice from the University of Massachusetts, Lowell, and cum laude from Roger Williams University School of Law. Practicing since 2008, he is a member of both the Massachusetts and Rhode Island Bars.
Before joining the firm, Kareem worked for the Committee for Public Counsel Services (CPCS), better known as the statewide public defender's office here in the Commonwealth. Serving in several different courts, including Brockton, Lowell, and Lawrence, Kareem began working at CPCS as a staff attorney, eventually moving up to a supervising attorney position.
As a trial attorney representing indigent defendants in multiple counties, Kareem tried many criminal trial matters ranging from misdemeanors to serious felonies in several different courts, and worked at both the district and superior court level. As a supervising attorney, Kareem lead a team of public defenders and conducted several trainings and lectures for incoming attorneys across the state. It is this unique wealth of experience, coupled with his enthusiasm for upholding fair labor practices, which Kareem brings to the table at Sandulli Grace.
When he's not a hearty and zealous advocate (which is rare), you might catch glimpses of Kareem and his wife Jessica taking their dogs to the beach or a park, catching a sox game, or watching a good movie. He lives in Belmont, Massachusetts.