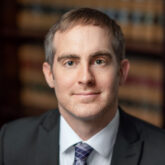 James Racine
James Racine joined Sandulli Grace in 2019. He received his Juris Doctor from Boston College Law School and a bachelor's degree in history from the University of Massachusetts, Dartmouth. He is licensed to practice law in Massachusetts.
Prior to joining Sandulli Grace, James worked as a field attorney for the National Labor Relations Board (NLRB), Region 31 in Los Angeles. As a field attorney, James acted on behalf of the General Counsel by investigating charges of unfair labor practices and resolving and litigating cases before administrative law judges. James also helped conduct elections to determine union representation preferences and drafted decisions for the Regional Director in contested representation matters.
Prior to working for the NLRB, James served as a law clerk to administrative law judges at the United States Department of Labor in Washington, D.C. and Boston. He also represented clients at administrative hearings before the Massachusetts Department of Unemployment Assistance as an attorney in the employment law unit of the Central West Justice Center in Worcester, MA. During law school, James represented an asylum seeker before the Boston Immigration Court as a student attorney in the Boston College Law School Immigration and Asylum Clinic and completed internships at the U.S. Department of Labor, Office of the Solicitor, the Medical-Legal Partnership, and the International Legal Foundation in Nepal and New York.
James currently lives in Norton, MA with his wife and two children. He enjoys traveling, reading, and following the Red Sox.